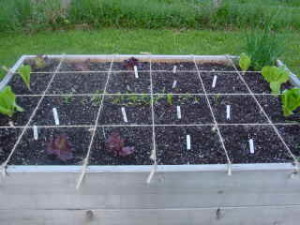 It's hard to believe we are coming to the close of another year for the FREE "Get Growing Series" which educated new and seasoned Cornwall gardeners on various topics related to conserving energy by raising their own food and medicine. The summer has flown by since this shot was taken on May 8th. I was co-cordinator of this free program designed by Debbie Bennett of Kent Greenhouse for home gardeners and wanna-be's. Sponsored by the Cornwall Energy Task Force, Debbie shared her extensive knowledge from many years in the industry in a relaxed and informative manner with a huge emphasis on making gardening easy and fun. We  tag-teamed the workshops to give participants a well-rounded education in both the technical aspects of vegetable gardening as well as nutritional and health benefits of gardening with herbs and vegetables.
We began in May when, after a full and successful growing season in 2012, the lovely raised beds (provided b
y Kent Greenhouse and Gardens) behind the library were renewed with the necessary ammendments to nourish the spring seeds and seedlings that were planted at the first session. Peas, Onions, Spinach, Beets, Chard (bright lights), Carrots and a variety of lettuces were tucked in and well-watered to begin the season beside the luscious perennial chives which had overwintered and burst forth with lovely magenta blossoms that we used to create a beautiful Chive-Blossom vinegar in June. We even did our part to protect the native flora in our county by eating some of the dreaded weed garlic mustard while we worked. An underused invasive, garlic mustard's opportunistic growth habits can soon take over an area if not controlled. And as nature would have it, this plant is just the ticket to support our liver's important job of detoxifying and cleansing our bodies after a long, sluggish winter. It's high time garden enthusiasts and weekend warriors take up their forks while cultivating in the garden! What a peaceful solution to the overabundance of the opportunistic plants in our midst! Above all, have fun and enjoy the stress-ruducing benefits of time spent in nature tending your little piece of terra firma! Our environment will be better off if we practice more grazing on edible aggress
ive weeds while eliminating it in an environmentally friendly way.
For those of you who couldn't join us this year, we changed the programing slightly to allow more families to attend on weekday afternoons while offering an occassional weekend class. The hands-on sessions focused on the raised bed planting design and square foot intensive method as well as the benefits of successive planting and the nutrient demands of producing various crops in a small area. Debbie gave us tips on soil bacteria and described some symptoms of plant diseases and how to manage them. Summer plantings of cucumbers, tomatoe and kohlrabi were introduced while   harvests of spring vegis were enjoyed. Successive plantings of greens are flushing the beds with color anew as the Autumn approaches with surprising swiftness.
Many thanks to all who attended the workshops this year! We look forward to sharing more with you in the spring of 2014!